Highlights
Closest to Central London
Routes into major sightseeing areas and shopping districts
First of our operations hubs to run electric buses
3,121,133
Annual mileage operated
5
Miles from Central London
Background
Our Shepherd's Bush garage took a momentous further step towards zero emissions in February 2020 with the introduction of West London's first 24-hour, double-deck electric bus route: Route 94 (Acton Green to Piccadilly Circus). The electric buses on Route 94 join the 36 single-deck vehicles we introduced in 2018 when we converted to electric operation two other routes: the C1 (Victoria to White City) and the 70 (South Kensington to Chiswick). Our electric buses are making a positive contribution towards the mayor's goal of running a 100 per cent zero emissions fleet in the capital.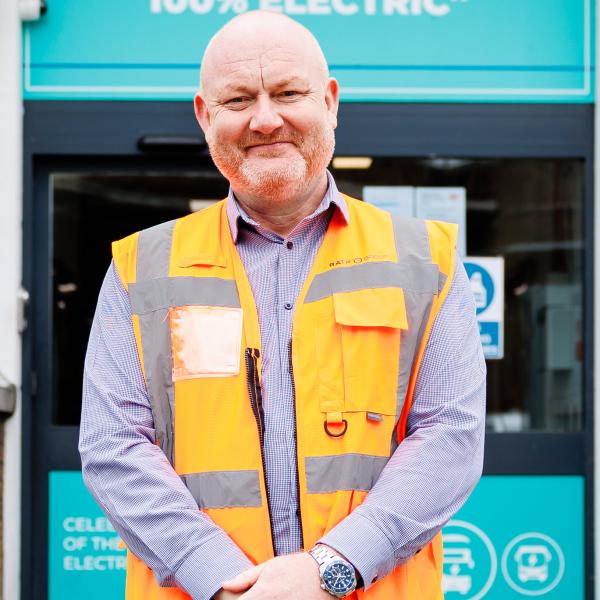 Jim has acquired a great deal of experience in bus operations, having carried out various roles in the industry for most of his working life. He was delighted to be appointed General Manager at our Shepherd's Bush Garage in 2022 as he had enjoyed working in the previous positions he had held there. He was pleased to see that the garage has expanded its fleet of electric buses and is, therefore, still very much at the forefront of the journey to zero emissions. He enjoys being part of a vibrant and diverse area such as Shepherd's Bush, which prides itself on a strong sense of community. This is very much reflected within the garage itself.
Jim said: "I am enormously proud to be part of a team made up of people largely from the local community.  I enjoy being able to provide safe and reliable bus services to the local population with vehicles that are making a positive impact on the air quality in the area."
Jim has also assumed the role of Head of Operations for 'London United East' covering operations in Shepherd's Bush, Stamford Brook and Park Royal.
Jim Small
Head of Operations for London United East
Learn More
Shepherd's Bush Garage
Wells Road, Shepherd's Bush,
London, W12 8DA
020 8400 5061
Traffic Managers:
Victor Sabberton
Joanna Munns
Contact us